The Zacchino Duo Behind The Sedona Family Restaurant: Vespa Healthy Italian Café
Meet the family behind the Sedona Family Restaurant: Vespa Healthy Italian Café, Matteo Zacchino and his father, Leonardo Zacchino. This dynamic father-son duo brings together the rich traditions of their Italian heritage with their passion for exceptional service to create an authentic Italian café experience right in the heart of Sedona. Be sure to check out our DRINKS menu page as well.
Matteo Zacchino
Matteo's journey started in Sanremo, Italy. He grew up amidst the lively atmosphere of his family's dance clubs and restaurants. This early exposure to the service industry made an impact on Matteo. This was combined with his grandmothers' influence in the kitchen. These laid the foundation for his love of Italian cuisine.
An artist at heart, Matteo honed his skills at the State Institute of Art in Florence. He then moved to Arizona. Here his artistic journey continued as a successful gallery artist in Scottsdale. He has also embraced eastern philosophies. He has become a Vedic counselor and yoga instructor. These reflect his diverse interests and holistic approach to life.
In 2011, Matteo stepped into entrepreneurship, opening a yoga studio in Wilmington, NC. After nearly five years, he moved to Sedona and turned his focus towards hospitality. Here he operated a successful Airbnb and guest services business. This diverse experience was the precursor to the creation of Vespa Healthy Italian Café. Here he combines three of his talents and experiences. His Italian roots, passion for hospitality, and commitment to healthy, flavorful cuisine.
Leonardo Zacchino
Leonardo, Matteo's father, has been instrumental in establishing Vespa Healthy Italian Café. A seasoned entrepreneur, Leonardo's history included owning dance clubs and restaurants in Sanremo. This provided the blueprint for success in the hospitality industry.
Leonardo is known for his business acumen and dedication to quality service. He brings his rich experience and deep understanding of Italian hospitality to this business model. As a business partner, he is an invaluable asset to Vespa. He helps guide the café's operations. This ensures a premium and authentic Italian experience for every guest.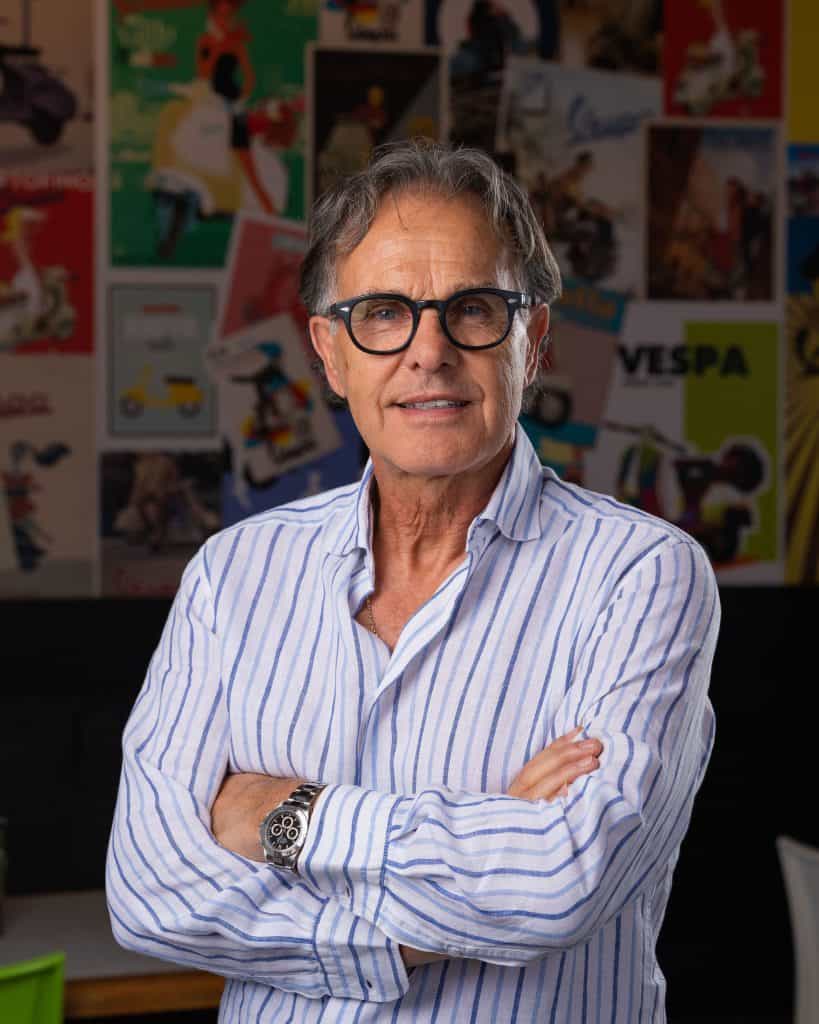 Matteo + Leonardo and their Sedona Family Restaurant.
Together, Matteo and Leonardo have created an inviting space. Here guests can savor the taste of Italy. They also experience the warmth of Italian hospitality. Their shared vision and dedication to quality have made Vespa Healthy Italian Café a destination in Sedona.
We invite you to become a part of our family, one plate, one cup, one moment at a time. Experience the flavors of Italy in every bite. Enjoy the authentic café ambiance at this must stop Sedona Family Restaurant. Share the passion of the Zacchino family in every aspect of Vespa Healthy Italian Café & at Tutti Santi Ristorante in Scottsdale, Az.